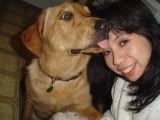 It's Top Sites Tuesday again at BlogDumps...and this time, we're sharing posts about our favorite pet or animal. If you looked at my picture on the left, can you tell I love my dog? MG - as he was already named when I adopted him from the Isle of Wight Animal Shelter - shares my birthday, too! That is so cool!
I did have another dog before MG. His name was Rambo. I adopted him from the Champaign-Urbana Humane Society when I lived in Illinois in 1993. I had him for 12 years (even longer than I was married to my husband!) so yes, we were really close buddies! Rambo went to sleep for the last time in October 2005 and I still miss him. I shared his picture with the
CHUS Alumni page
(in case you want to see what he looked like). Ah, but I don't want to get all sentimental and weepy here. I will cherish all those happy memories I have of him.
Meanwhile, did you know that my love of dogs inspired me to write this twisted, creepy poem in 2006? The inspiration came to me as I was driving to work. I must've looked funny reciting the words to myself to keep from forgetting them before I could get a chance to write them down! LOL!
...and that unconditional devotion they give their owners is the reason why dogs are my favorite kind of pet. Have you hugged your dog (or other pet) today? Don't forget to do that because if they could only talk, I'm sure they'd say they love you, too!
And don't forget to click the button below to let BlogDumps know you read this!

Come Join Top Sites Tuesday and be #1 on BlogDumps!
The purpose of this Meme is to encourage
Networking between bloggers to have fun while doing it!
Make sure to visit all the other participants and leave comments.